Propose Your Crush on this Valentine's Day with beautiful flowers
Valentine's Propose Day Flowers and Gifts to propose your crush
There is nothing more romantic than Valentine's Day, so it is the perfect time to propose to your crush. It is the day when we express our love and feelings to the one we care about. No matter how many ways there are for you to propose to your crush, nothing will work better than giving an amazing Valentine's Day Flowers gift. Are you planning to propose to your crush on this valentine's day? Then, here are some special ways to propose to your crush on this valentine's day with flowers.
How to propose my crush on Valentine's Day?
Proposing to your crush on Valentine's Day can be a romantic and memorable way to express your feelings.
Reflect on your feelings: Take some time to think about your feelings for your crush and ensure that you genuinely want to take your relationship to a romantic level. Consider whether you have a solid foundation of friendship and compatibility.
Plan a special date: Valentine's Day is already a romantic occasion, so it provides a perfect backdrop for your proposal. Plan a date that allows for privacy and intimate conversation. Choose a location that holds significance for both of you or that aligns with your crush's interests.
Be sincere and authentic: When you propose, be genuine and speak from the heart. Express your feelings clearly and explain why you value your crush's presence in your life. Let them know how they make you feel and why you believe you would make a great couple.
Consider a thoughtful gesture: Alongside your verbal proposal, you may want to include a thoughtful gesture. This could be presenting a bouquet of their favorite flowers, writing a heartfelt letter, or giving a small gift that holds significance for both of you.
Respect their response: Remember that everyone has their own feelings and may not reciprocate your romantic interest. Be prepared for any response, whether it's acceptance, hesitation, or a polite decline. Respect their feelings and remain understanding and supportive.
Enjoy the moment: Regardless of the outcome, cherish the moment and the courage it took to express your feelings. Celebrate the bond you share, whether it continues as friends or evolves into a romantic relationship.
Roses For Propose Day
Roses are the perfect way to express your feelings to your crush, especially, romantic red roses can convey emotions in the most magical way. Since red roses are symbolic of deep love, passion, and romance, it would be a perfect choice to give a valentines gifts bouquet of mixed rose flowers of red and pink shades as a way to express your affection. Order Valentine's Day Flowers Online Muscat from the best florist in the industry Black Tulip Flowers and give the best valentines gifts for her.
• Pink Proposal
• Lovely Red Roses
• Beautiful Heart Arrangement
• Sweet Hand Bouquet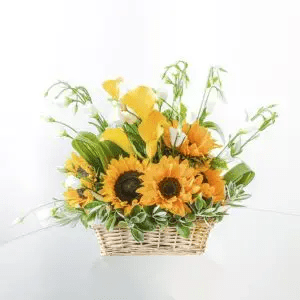 Sunflower For Propose Day
Sunflowers are one of the bold flowers that represent love and devotion, and are also considered to be the most romantic valentines flowers. This is one of the Valentine's Day Special flowers which would be a great valentines bouquet choice for new couples, and is ideal to give when proposing to your crush. Are you looking for the best flower shop in Oman? Send Valentine's Day Flowers Online Oman from the best flower shop in Muscat, Black Tulip Flowers and make this Valentine's Day extraordinary.
• Suns in the Basket
• Bouquet of Beautiful Blooms
• Basket of Mix Flowers
• Charming Bunch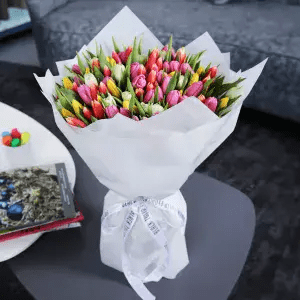 Tulips For Propose Day
Tulips are the most popular flower in the world, which represents love at its most pure. One of the best romantic flowers to propose to your crush is these beautiful tulips, since it means loyalty and very romantic feelings towards them. It would be good to give red and pink tulips when proposing because they represent true and perfect love. You can also check out our wide range of best valentine day gifts from our online portal Black Tulip Flowers and Send Valentine's Day Flowers Online Muscat to your loved one.
• 50 White Tulips
• Tulips Hand Bouquet
• Elegance of White
• Pink Tulips Time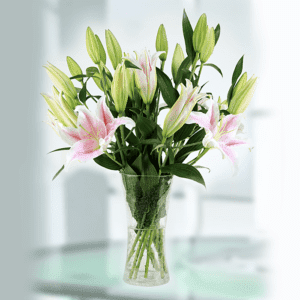 Lily For Propose Day
Lilies are an elegant and aromatic flower that can convey the depth of your feelings for your crush. With their delicate beauty, sweet aroma and smooth texture, lilies are a symbol of luxury, love and beauty, as well as being long-lasting. Lilies are the perfect Valentine's Day gifts for her and make your girlfriend feel valued and special. Send Valentine's Day gifts Online Oman from the trusted florist in the industry Black Tulip Flowers.
• Treasured Pink Lily
• Astounding Lilies
• Wonderful Lilies
• Sweet Smelling
How can I propose my crush through online?
Are you thinking about how can I impress my crush over text message? Whenever you choose to express your love online make sure your messages are clear, think twice before expressing your love. Send her the most beautiful valentine flowers online and express your deep love through texts. Black Tulip Flowers have a wide range of Flowers for Valentine's Day collections and you can choose the best Valentine's Day Flower Delivery in Muscat.
Black Tulip Flowers understands the importance of special moments and we provide only fresh and high-quality flowers to make your celebrations memorable. Simply log on to our online portal for the best valentine's day gift and Send Valentine's Day Gifts to Oman.
Learn more about our new products and flowers designs. And checkout all the updates of Deals and Offers on our social media.