All about Birthday Flowers Online
All About to know Ideas on Birthday Flowers Online
Giving a good gift for any occasion is not that easy and especially birthday gifts, which are personal, are more difficult. You need to think of gender, age, interest, etc. to consider a gift.
Birthday gifts are cherished by everyone for a long time or even till the next birthday. So one must choose the gift carefully.
Why think so much when flowers can be the best choice for a birthday gift? With Black Tulip Flowers at a click away, you order birthday flowers online without any difficulty.
A happy birthday message with the lovely and beautiful flowers carefully chosen by you from Black Tulip Flowers surprises the receiver and shows them the love, care, and affection you have for them.
Birthday Flowers Online
You can find a wide variety of birthday flowers Online at Black Tulip Flowers.
We have different types of flower bouquets and arrangements suitable for any relationship.
You can choose from
Lovely Emotion
Precious Bunch
Pink Champagne
Majestic Tulips
Rainbow Bouquet and more
Birthday Flowers Online for Friends
When choosing birthday flowers for a friend, you can select blooms that reflect their personality, favorite colors, or the meaning behind certain flowers. Here are some popular flower options that make great birthday gifts for friends:
Sunflowers: Sunflowers are vibrant and cheerful, symbolizing happiness and friendship. They convey warmth and joy, making them a perfect choice for celebrating a friend's birthday.
Gerbera Daisies: Gerbera daisies are known for their bright colors and large, cheerful blooms. They represent innocence, purity, and friendship. These flowers can bring a sense of joy and playfulness to your friend's birthday celebration.
Lilies: Lilies are elegant and versatile flowers that come in various colors and sizes. They represent beauty, purity, and devotion. Lilies can make a stunning and meaningful gift for a close friend.
Roses: Roses are classic and timeless flowers that convey different meanings based on their colors. Pink roses represent friendship and admiration, while yellow roses symbolize friendship and joy. Consider a bouquet of mixed-colored roses to express the many layers of your friendship.
Carnations: Carnations are long-lasting flowers available in a wide range of colors. They symbolize love, fascination, and distinction. A bouquet of colorful carnations can brighten your friend's special day and convey your affection.
Orchids: Orchids are exotic and elegant flowers that represent luxury, beauty, and strength. They can be a sophisticated and memorable gift for a dear friend who appreciates the finer things in life.
Mixed Flower Bouquet: A mixed flower bouquet combines different blooms and colors to create a vibrant and visually appealing gift. You can select a combination of your friend's favorite flowers or a mix of blooms that represent various sentiments like friendship, happiness, and love.
Birth Month Flowers
Many of us don't know that there is a birth flower for each month. We help our clients to choose the birthday flowers Online according to their requirements.
Our ultimate aim is to see a smile on the face of our client. The below the birth month and the flower related to it may help to choose the best birthday flower by yourself,
| | |
| --- | --- |
| Month | Flower |
| January | Carnations |
| February | Iris |
| March | Daffodil |
| April | Daisy or Sweet Pea |
| May | Lily |
| June | Rose |
| July | Water lily |
| August | Gladiola |
| September | Aster |
| October | Marigold |
| November | Chrysanthemum |
| December | Narcissus |
Don't miss a chance to surprise your loved ones with a significant bouquet/flower as per their birth month.
All the birth month flowers come in different colors and you can best choose the color for the flower delivery.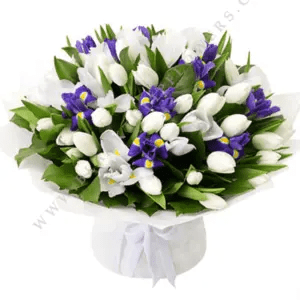 Birthday Flowers online and Gifts Delivery Online
Contact us today to customize your flower delivery with any other gift of your choice be it either a cake, chocolates, balloons or teddy or any other gift. We also assure you of the same day birthday flowers online delivery.
Among the birth month flowers, the popular birthday flowers are Chrysanthemums, Carnations, Roses, Daisies, and Marigold.
We also offer flower Combos to go with your flowers as below:
Birthday Combo Bouquet With Godiva
Love box with Macaroons
A heart-shaped box of red roses with Ferrero
Red Rose in Gold wrap with Godiva and more
With Black Tulip Flowers, you can send beautiful flowers for your loved one's birthday anywhere in Oman.
If your birthday flower is for your romantic partner then you can choose online from our website for same-day delivery, like
Basket of Love
Blushing Bouquet
Secret Blooms
Basket of Beauty
To make your gift unique, and to select the best flower to visit our product and select the best that suits your choice.
What are you waiting for, browse our product range and avail our offers and daily deals? Learn more about our new products and flowers designs. And checkout all the updates of Deals and Offers on our social media.